Richard Sterban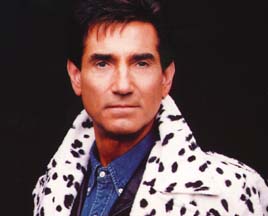 Richard Anthony Sterban is probably the most recognizable member of the Oak Ridge Boys, but it's not because of his striking good looks; it's because of his rafter rattling bass voice. Now, who hasn't heard the "Oom pa pa mau mau" bass parts in the Oaks' 1981 smash hit, "Elvira," and has not tried to imitate this exceptional bass voice? Richard's voice is so phemnominal that when he sings, there is NEVER a quiet woman in the house. In fact, Richard is accustomed to female shreaks when he sings his bass parts.
Richard is probably the fittest Oak Ridge Boy. He often carries a bike under the bus or runs before shows. Richard also keeps himself in good health by eating all of the right foods.
Richard has been a member of the Oak Ridge Boys since 1972. The Oaks aren't all that he has under his belt. Richard used to sing back up for Elvis. Yes, that's right, the King himself. But ladies, don't get too excited. Richard has been happily married to Donna for over 15 years. They have two daughters, Lauren and Tori. Richard also has three sons from a previous marriage as well as grandchildren.
Please visit the official site of the Oak Ridge Boys on the World Wide Web at Oak Ridge Boys.com. to get the latest up-to-date information about all things Oak Ridge Boys.
Link to other pages on this web site
Return to The Mighty Oaks Page The Mighty Oaks Page