William Lee Golden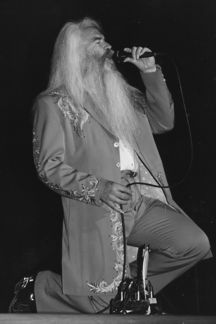 William Lee Golden has been a member of the Oak Ridge Boys since 1965. During the early years, William Lee's foresight helped lead the Oaks from gospel to country music. He is especially known for his rugged Mountain Man look and his quiet demeanor. William Lee is a true crowd pleaser with his southern drawl stating to the fans, "I feel like singin' all night," and his "Hillbilly Jig" during the well-known Oaks song, "Leavin' Lousiana In the Broad Daylight." However, William Lee is probably more well-known for his smooth voice on "Thank God For Kids," in which he beautifully adds the phrase, "Thank God for grandkids too," at the end.,/p>
William Lee is both a proud father and grandfather. He has three sons from a previous marriage, Rusty, Craig, and Chris. Incidentially, Chris plays drums for the Mighty Oaks Band. William Lee is now happily married to Brenda and has a two-year old son, Solomon at home to keep him busy.
Please visit William Lee Golden's official site on the World Wide Web at WilliamLeeGolden.com. to receive more information about William Lee Golden and his family.
Please visit the official site of the Oak Ridge Boys on the World Wide Web at Oak Ridge Boys.com. to get the latest up-to-date information about all things Oak Ridge Boys.
Link to other pages on this web site
Return to The Mighty Oaks Page The Mighty Oaks Page