The Mighty Oaks Band
The Mighty Oaks Band stand behind the "Boys" to make the music possible that you hear night after night. These four men help to provide the driving energy for the Oaks.
From L to R: Donnie "Guitar" Carr joined the Oaks Band in 1991. Ronnie Fairchild has been playing music for over 27 years. He has been a member of the Oaks Band, playing keyboards, since the early 80's. Jimmy Fulbright first joined the Oaks Band playing bass guitar in 2001. He has since returned to grace the stage and amaze young screaming fans as the Oaks bass player.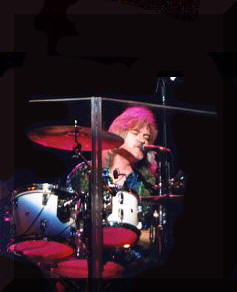 Chris Golden, the son of Oak Ridge Boy, William Lee Golden, is very talented in his own right. Chris has filled in for the Oaks since 1995 playing drums, mandolin, harmonica, and guitar. In 1998, Chris became the Oaks official drummer.
Please visit the official site of the Oak Ridge Boys on the World Wide Web at Oak Ridge Boys.com. to get the latest up-to-date information about all things Oak Ridge Boys.
Link to other pages on this web site:
Return to The Mighty Oaks Page The Mighty Oaks Page