The Oak Ridge Boys, as we know them today, have been together since 1973. You know them for their hit songs such as: Elvira, Bobbie Sue, American Made, and Ya'll Come Back Saloon. The Oak Ridge Boys are not just great entertainers, they are phenomenal people as well.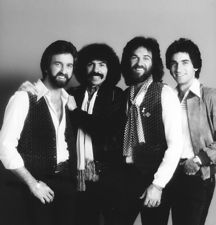 However, these days, the Oaks are looking more like this!!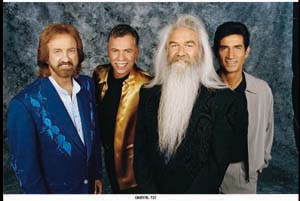 The Oak Ridge Boys are: Joe Bonsall, Duane Allen, William Lee Golden, and Richard Sterban. Please click on their names below to get information about each Boy!
Oak Ridge Boys' Number One Hit Singles
"I'll Be True to You" - 2/78
"Leaving Louisana (In the Broad Daylight)" - 11/79
"Trying to Love Two Women" - 3/80
"Elvira" - 3/81 PLATINUM
"I'm Settin' Fancy Free" - 8/81
"Bobbie Sue" - 1/82 GOLD
"American Made" - 2/83
"Love Song" - 5/83
"Everyday" - 7/84
"Make My Life With You - 11/84
"Little Things" - 3/85
"Touch a Hand, Make a Friend" - 7/85
Please visit the official site of the Oak Ridge Boys on the World Wide Web at http://www.oakridgeboys.com. to get the latest up-to-date information about all things Oak Ridge Boys.
Any questions concerning this web page: Please contact the webmaster at smgray3@verizon.com